WORLD PREMIERE OF THE BLADE OF JEALOUSY BY HENRY ONG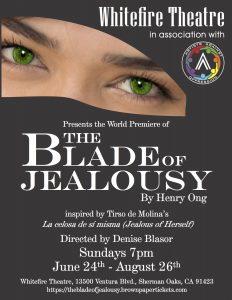 The Blade of Jealousy, Henry Ong's adaptation of Tirso de Molina's La celosa de sí misma, will be playing at 7pm every Sunday from June 24th to August 26th, at the Whitefire Theatre in Sherman Oaks. Directed by Denise Blasor, Ong's play dramatizes in modern-day Los Angeles Tirso's exploration of how social circumstances affect self-identity and the capricious nature of love. Blade, first developed as part of the UCLA Golden Tongues initiative to adapt the comedia to contemporary LA, demonstrates the lasting relevance of the questions that the Spanish playwright explored four centuries ago.
Whitefire Theatre, 13500 Ventura Blvd., Sherman Oaks, CA. 91423
For an interview with the playwright, https://better-lemons.com/featured/playwright-henry-ong-sharpens-his-blade-always-aiming-to-pay-it-forward/
For tickets, https://thebladeofjealousy.brownpapertickets.com
For theatre information: http://www.whitefiretheatre.com
Be sure to use discount code TBOJ.