Staged Reading of The Widow of Valencia
Join us on Wednesday, November 8th at 7:30PM for the staged reading of out working group's latest translation, The Widow of Valencia.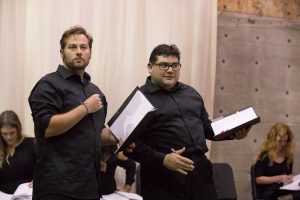 Written by Lope de Vega between 1595 and 1599, this juicy play centers on the figure of Leonarda, a young widow, and her posse of suitors, who circle her house at all hours, hoping for a glance, a smile, or a kind gesture. Leonarda, however, is in love with Camilo, and in order to maintain the pious and reserved life that was expected of widows at the time, she devises a plan with her servants, Julia and Urbán, to lure him into her home. To add to the general sense of confusion, Lope sets the play in Valencia—one of the most vibrant and festive Spanish cities of the time—during Carnival, when amorality, chaos, and false identities were normalized and accepted.
Clever, compelling, and entertaining, The Widow of Valencia takes on universal themes of love, pride, and social standing, yet it remains unique in its daring portrait of intrigue and female sexuality. Directed by UCLA theater professor Michael Hackett, first year MFA students in the Acting and Directing Programs will bring Lope's enthralling Golden Age characters to life.
The performance is free, but reservations are required. Please visit http://www.1718.ucla.edu/events/widow/
Jennifer L. Monti