Fuente Ovejuna Strikes a Chord at Cerritos College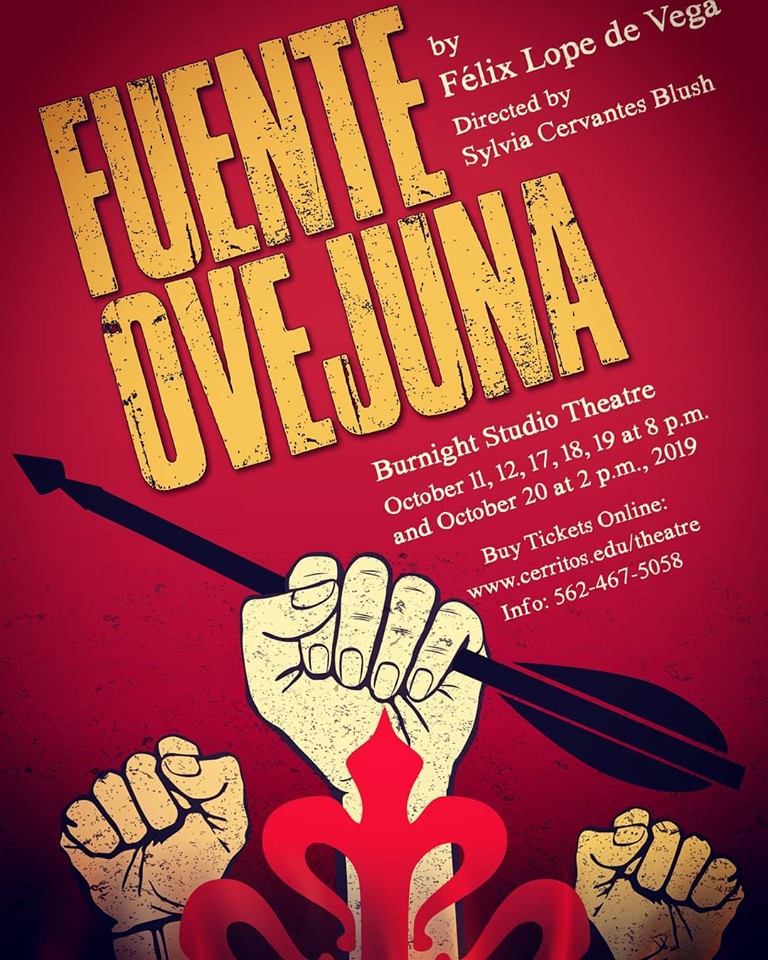 Director Sylvia Cervantes Blush recently closed a sold-out production of Lope de Vega's Fuente Ovjeuna at Cerritos Community College. Blush is a recent MFA from UCLA's Department of Theater, Film, and Television, and a longtime collaborator with Diversifying the Classics: in 2016, she played the gracioso Campana in the group's translation of What We Owe Our Lies by Juan Ruiz de Alarcón, and in 2018 she co-directed Lope de Vega's Women and Servants with Jean Carlo Yúnen Aróstegui for LA Escena. Blush proved herself more than equal to the task of addressing a play which is as difficult to stage as it is canonical. While she made significant changes to the text to create a more cohesive narrative in the third act, she also bucked the trend of removing the subplot surrounding the Catholic kings, a directorial choice which has become almost the norm when bringing this play to the most modern stage. In a particularly effective staging decision, Blush maintained the torture scene where villagers face questioning and brought it to the stage: the villagers are restrained at a chain link fence, evoking powerful images of twenty-first century violence which also places the vulnerable at the whims of powerful, uncaring leaders. This production especially benefited from Blush's strengths in movement and choreography, live music performed by the actors, and a practiced sensibility in connecting the classics to our modern moment. The result is a production of Lope's most well-known play as an enduring call to action against abuses of power. Blush makes this investment in connecting past to present clear in the program notes to the show:

We have an obligation to stand up for those whose civil liberties are threatened by those in positions of power. We have a right to speak out against fear-mongering politicians who hide behind false ideals and bombastic rhetoric. We are living in times that are echoed in the narrative of Fuente Ovejuna and the echo is reverberating around the world.

Blush is currently a Visiting Professor at the University of Redlands with a focus on Music Theatre and Latinx Theatre. Her next production, the Pirates of Penzance, will run at the University of Redlands in March 2020.