Euterpe at Play/Euterpe Comediante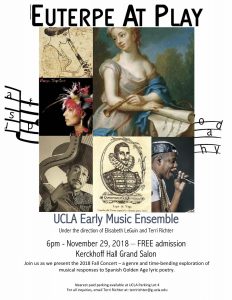 Many comedias include song: vibrant verses meant to be sung by actors on stage, with musicians often accompanying their vocal performance. However, very little of the actual music—the scores to these songs—still exists. For those of us interested in the production and performance of comedias today, in Spanish as well as in translation, the question of how to address this missing piece of the early modern theatrical puzzle is at once daunting and exhilarating. It forces us to venture outside the comfortable confines of our three-act text to explore music and lyric verse contemporary to the comedias themselves, as well as alternative musical and lyrical traditions available to us now.
Recently, Diversifying the Classics took part in an event that dove headfirst into both: Euterpe at Play/Euterpe Comediante. Billed as "a genre-bending exploration of musical responses to Spanish Golden Age lyric poetry" (Euterpe is the muse of lyric poetry), Euterpe at Play consisted of an afternoon symposium and evening concert, both of which were organized by UCLA musicologist, Dr. Elisabeth Le Guin. Le Guin, who directs the UCLA Early Music Ensemble, is also a long-standing member of the UCLA Working Group on the Comedia in Translation and Performance, and an active participant in a transnational community of musicians and activists that play son jarocho, a musical tradition from Veracruz, México, with baroque roots and indigenous and African influences. Last September, Le Guin beautifully connected all three of these activities when she performed son jarocho for a production of Lope de Vega's Women and Servants at the first Los Angeles Festival of Hispanic Classical Theater, LA Escena.
Euterpe at Play included a keynote address by Dr. Álvaro Torrente (composer, Professor of Music History at the Universidad Complutense de Madrid, and Director of the Instituto Complutense de Ciencias Musicales). Professor Torrente presented on diverse forms of early modern rhyme and meter, dance and song, and more than a few memorable lyrics. Another highlight of the symposium was a roundtable discussion titled "Lyric verse and music: challenges and opportunities for contemporary scholars and performers." This featured professors Le Guin and Torrente, Diversifying the Classics' director Dr. Barbara Fuchs, and baroque music scholar and performer Dr. Eloy Cruz (Professor in Mexico's Escuela Nacional de Música, and founding member of La Fontegara México and Tembembe Ensamble Continuo). I also took part in this roundtable, and presented a paper on music and song in modern productions of Calderón de la Barca's Amar después de la muerte.
As the symposium came to a close, musicians, singers, dancers, and spoken word artists began entering the venue, slowly turning an academic space into a performance space; professors Le Guin, Eloy, and Torrente transformed from theorists into practitioners; and the rest of us waited for the show to begin. And what a show it was! Euterpe at Play's concert was a truly collaborative undertaking between students and professors, professional and community musicians. Performers included professors Le Guin and Eloy, the twenty-one member UCLA Early Music Ensemble (co-directed this year by PhD Candidate Terri Richter), and the Santa Ana-based Son del Centro (of El Centro Cultural de México).
As the program explained, the baroque poetry sung in Spanish was set to period music, including a modern reconstruction of a zarabanda (a popular dance song with often racy lyrics) as arranged by Professor Torrente. In other wonderful Spanish-language pieces, early modern verse and contemporary music and dance were blended seamlessly into one through the vehicle of son jarocho. The English translations, however, were not set to baroque music (or son jarocho for that matter) "for the simple reason that English and Spanish prosody are fundamentally different—the translated words and lines cannot 'fit' the rhythmic basis of this music," as the program put it. One of the projects of the Early Music Ensemble over the fall quarter, therefore, was to "explore what kinds of music do fit these English translations, and to develop musical settings based on our findings."
EME members worked together, under the guidance of Professor Le Guin and local hip-hop "artivist" Maya Jupiter, to develop the settings for these translated verses. The results were both stirring and unexpected. A romantic lament from Lope de Vega's El caballero de Olmedo, translated not into verse but rather into prose, and sung to an original country song. A stinging monologue from Lope's Fuenteovejuna on violence against women, performed over music through spoken word and interpretive dance. A bilingual and multi-genre exploration of sentimental and instrumental vibrations, based on verses from Juan Ruiz de Alarcón's Los empeños de un engaño. These are just some of the ways that early modern verse from the Spanish comedia was reimagined in linguistic, musical, and cultural translation. Paired with the careful recuperation of baroque musical forms, as well as the recognition of that tradition in contemporary son jarocho, these creative reimaginings offered a glimpse of the comedia's diverse potential afterlives, and threw down the gauntlet for future productions, translations, and adaptations.
Many congratulations and thanks to Professor Le Guin, her students, and her musical collaborators for a fabulous event—and for their inspiring performances!
Payton Phillips Quintanilla