Ana Caro's The Courage to Right a Woman's Wrongs Coming to UCLA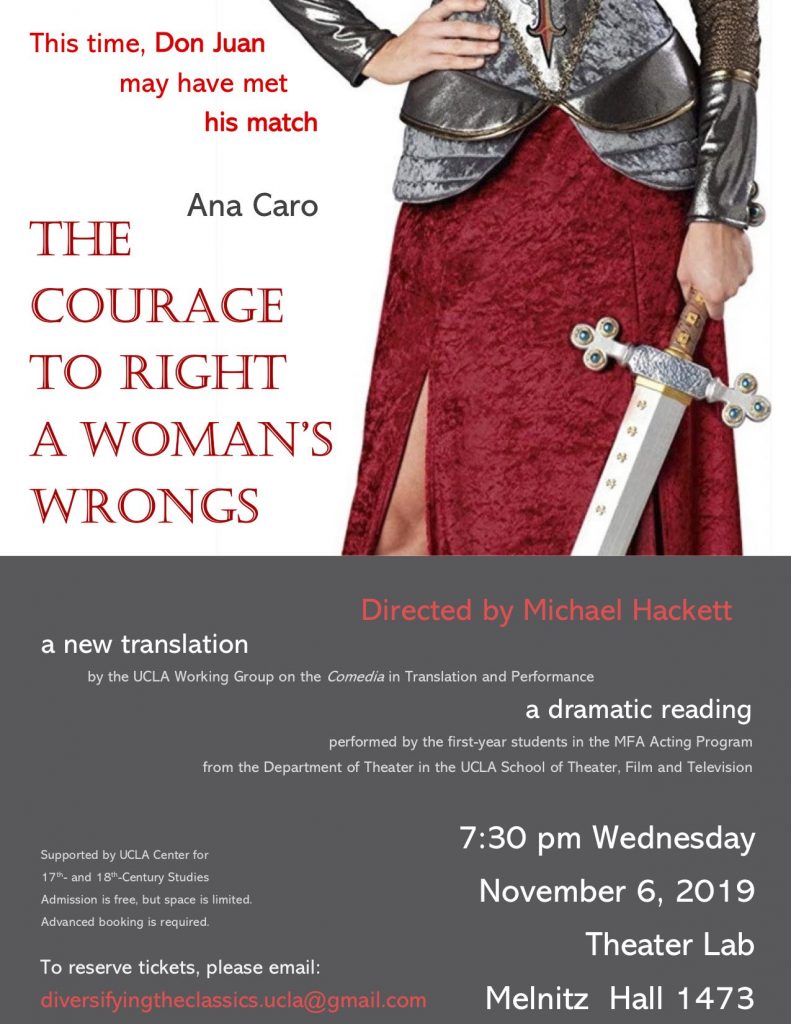 First-year students in the MFA Acting Program from the Department of Theater will perform a dramatic reading of Ana Caro's The Courage to Right a Woman's Wrongs Wednesday, November 6.
Written by one of the Spanish Golden Age's most accomplished female playwrights, Ana Caro's  The Courage to Right a Woman's Wrongs is a comedy of wild intrigue and lively ingenuity, in which Leonor crosses geographical boundaries and defies gender expectations in order to bring her fickle lover, Juan, to justice and restore her lost honor. Disguised as the dashing Leonardo, she travels from Seville to Brussels, where she finds Juan and initiates her shrewd plan for revenge. What follows is a hilarious feat of masterful maneuvering, replete with cross-dressing and unexpected twists, as she repeatedly outwits the men around her. While the thrill of Leonor's efforts to seek redress culminates with the expected restoration of her honor and marriage to Juan, the questions raised by her demands for justice make the play anything but conventional. Through this stirring tale of a woman's courage to right the wrongs she has suffered, the play holds up to scrutiny contemporary notions of masculine honor and offers in their place a vision that opens up space for women and their agency.
The dramatic reading is directed by Prof. Michael Hackett.
The event is free, but space is limited. To reserve tickets, please email: diversifyingtheclassics.ucla@gmail.com.