A Weekend at Almagro in the Festival's 40th Year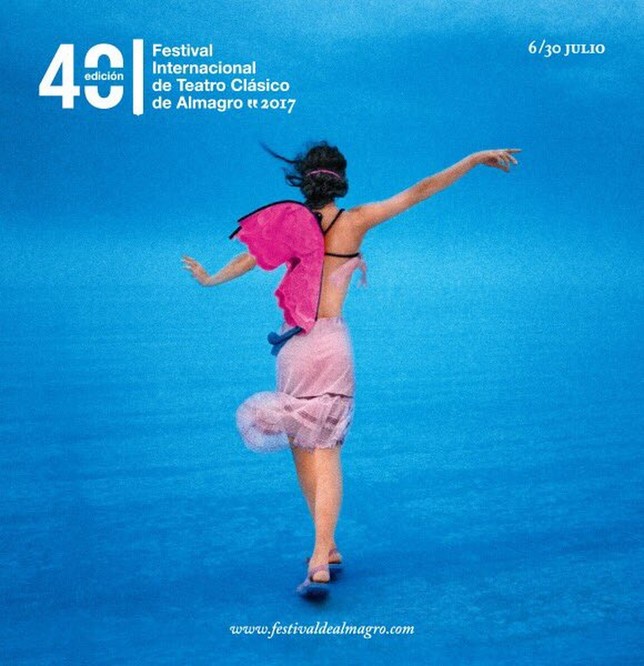 In 1978, three years after the death of the military dictator Francisco Franco, the city of Almagro, Spain and its corral de comedias hosted its first ever Festival Internacional de Teatro Clásico. Reviving the classical theater of Spain's Golden Age was perceived by some as problematic due to its association with Francoist notions of Spanish greatness, and was not unanimously supported. Forty years later, the festival has become a space where artists, educators, journalists, and audiences from Spain and abroad critically interrogate past and present by questioning cultural norms and exploring alternative voices and visions. The festival is a testament to the quality, vitality, and relevance of Spanish classical theater.
Almagro's corral de comedias was built in 1628 and is the only extant baroque popular theater in Spain. Its rediscovery in 1953, television debut in 1967, and rebirth as the soul of the Festival in 1978 also transformed Almagro as a whole. For several centuries in the medieval and early modern periods Almagro was a center of economic and military might, but it later fell into decline. Today, nearly all of Almagro's historic structures are in some stage of repair and revival, and several sites besides the corral are used as spaces for the festival's theatrical productions and accompanying cultural activities. These include the medieval Palacios Maestrales (which house the Museo Nacional del Teatro), the sixteenth-century Antigua Universidad Renacentista and Plaza de Santo Domingo (Espacio Miguel Narros), the seventeenth-century Hospital de San Juan de Dios, and the nineteenth-century Teatro Municipal. The magic of the festival is partly due to the symbolic and aesthetic weight of these spaces.
But what does a weekend in Almagro actually look like for the average visitor? I was able to explore the city and its major sites and museums, enjoy a leisurely visit to the corral de comedias, and see four productions over two evenings, all of which were worth sharing here.
The adaptation La vida es sueño (Life is a Dream) [vv. 105-106], whose producers include Moma Teatre and Teatros del Canal, successfully stripped Calderón de la Barca's classic down to its "essence" (the stated goal of its dramaturgs), which is as deep, dark, and disturbing as the interdependent prisons of the play's four protagonists: Basilio, a tortured king who imprisoned his son based on a grim prophecy; Segismundo, a prince whose only reality is a prison tower and the teachings and treachery of Clotaldo, his warden and tutor; and Rosaura, Clotaldo's long-lost daughter, who helps Segismundo claim his throne as she reclaims her honor. Calderón's play naturally leaves the audience with more philosophical questions than answers, and this adaptation's pared-down cast and script, impactful makeup and wardrobe, and stark, chilling set made those questions at once more urgent and accessible.
Lope de Vega's El perro del hortelano (The Dog in the Manger)—the story of a jealous noblewoman and her vacillating secretary maneuvering their way into marriage—was masterfully produced and performed by La Compañía Nacional de Teatro Clásico (CNTC). A delightfully anachronistic set and wardrobe (powdered wigs, anyone?) added something new to a well-worn play, as well as another dimension to the superb, comical physicality of its seasoned actors. Slightly unsettling was the apocryphal presence of a blindfolded and bare-chested, dancing and dart-wielding allegorical figure representing Love, which proved distracting but not devastating.
La Joven Compañía Nacional de Teatro Clásico ("The Young" CNTC, comprising actors under 28) took on Lope de Vega's Fuente Ovejuna (The Sheepwell), highlighting the most sinister aspects of this hyper-canonical play, and making the audience's collective skin crawl with distress and disgust. A town terrorized by a despotic commander eventually rebels, kills him, and then conspires to claim the murder as a collective, crying out under torture, "Fuente Ovejuna did it!" The play is often celebrated for its portrayal of group solidarity in the face of injustice, but the most powerful scenes in this production are the ones in which the townspeople abandon their friends through inaction and cowardice, or rabidly revel in death and debauchery. They seem to be poisoned, and not just by the commander's abuses, but by the ominous presence of the Catholic Kings. Just minor characters in Lope's play, Isabel and Ferdinand are always in the background here—literally. In costumes and makeup reminiscent of Bram Stoker's Dracula, they slowly circle the stage from opposite directions, drawn to each other as if possessed, and portray nothing less than evil. In La Joven's Fuente Ovejuna, the sickness that spreads through authoritarian violence starts at the very top, and infects everyone.
La Calderona, produced by Cía and Pau Pau Productions, is a two-actor—plus one DJ—hip-hop-inspired reflection on the world of the comedia and the life of one of its most (in)famous actresses, María Inés Calderón. Raps and ballads narrate the rise and fall of La Calderona—a mistress of Philip IV, the Hapsburg king who locked her in a convent after stripping her of their son—, as well the stories of other figures central to her triumphs and tragedies, including a scorned queen and a scathing priest. It took a surprisingly short amount of time for Adidas and rap battles to feel like natural spectacles in Almagro's famed corral, a space well utilized by the actors, who at times invaded the patio and occupied the balconies.
What else is there for the visitor to see and experience with just a weekend in Almagro, outside of its historic buildings and churches, restaurants on the plaza, curbside craft fairs, and affiliated performances in the style of "off-Broadway" and "after-dark"? First, there is the lace—in shops, on the plaza, filling the city's Lace Museum—, intricate, handmade, worthy-as-a-gift-to-your-grandmother kind of lace. Just ask the grandmothers sitting on benches outside of the festival venues when the first round of plays lets out around 10pm—talking with their friends, dogs playing at their feet—because that's what they do on Friday and Saturday nights, even when the festival is not in town. Then there are the eggplants. Yes, small, pickled, pimentoed eggplants bobbing around in barrels until they're plucked out for you to enjoy right at the stand, bent slightly forward, juice dripping at your feet. And somewhere between irreverent, tourist-kitsch and treasured local legacy is the cross of the Order of Calatrava, ubiquitous symbol of Christian conquest. You'll find it on your bottle of pilsner beer, on every trash receptacle in the main plaza, on costumes in more than one play (including Fuente Ovejuna)—and in the same embattled consciences that look upon the statue of Diego de Almagro, a brutal but celebrated conquistador of Chile and Peru, seated on his horse at the far end of the plaza, as if guarding the National Theater Museum.
Go to Almagro. Sleep in a sixteenth-century lodge. Take a picture on the steps of the corral's stage. See as many plays as possible. Eat the eggplants. But, if you can avoid it, don't go to the party alone because the festival is just that: a celebration of the survival, renewal, and reimagining of a timeless theatrical tradition, and a communal exploration of the contradictory, violent, materialistic, and yet forever hopeful world it was born in—a world that feels so strangely familiar because it is also our own.
For a lovely retrospective on the Festival's 40 years, visit http://festivaldealmagro.com/descargas/libro_conmemoracion_40ediciones.pdf
Payton Phillips Quintanilla