Friday, April 9, 3:00-5:00 pm PST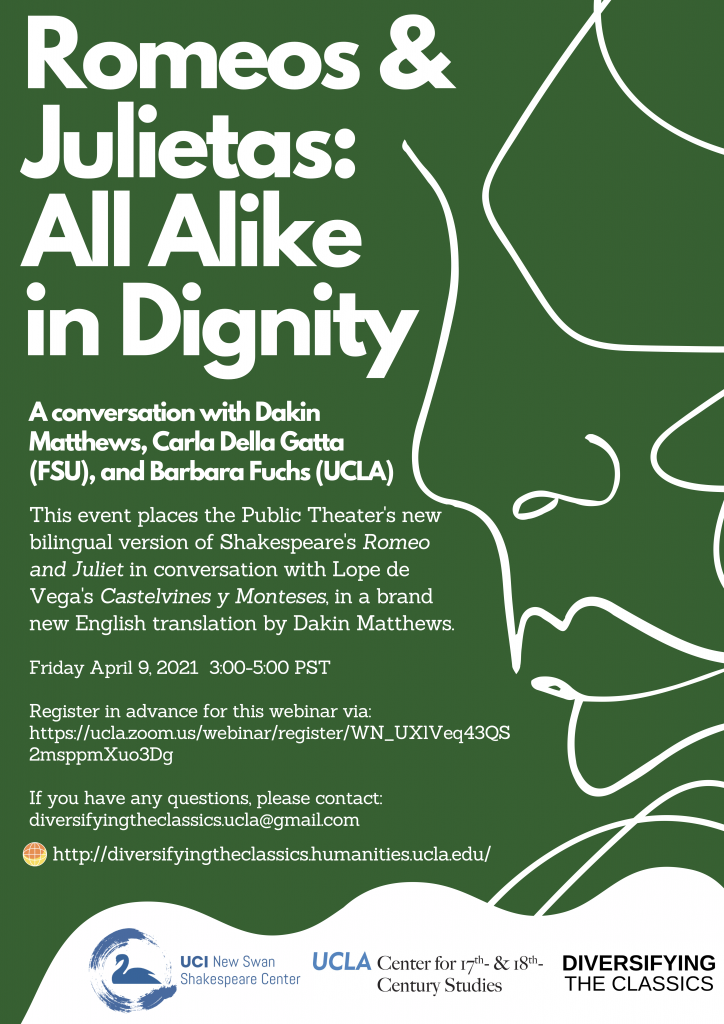 Diversifying the Classics invites you to a conversation with noted actor and translator Dakin Matthews and scholars Carla della Gatta (FSU) and Barbara Fuchs (UCLA).
The webinar is free and open to all, but you must register here. 
On March 18, New York's Public Theater will release a podcast of Romeo y Julieta, a bilingual version of Shakespeare's play, adapted by Saheem Ali & Ricardo Pérez González, and based on the Spanish translation by Alfredo Michel Modenessi. A recent interview with director Saheem Ali is here.
We will be discussing this production in relation to a much earlier Spanish version of the Romeo and Juliet story, Lope de Vega's Castelvines y Monteses, now translated into English by Dakin Matthews as Capulets and Montagues.
We will also present a staged reading of selected scenes from Capulets. The text for the scenes can be downloaded below. A complete text of Matthews' translation is forthcoming in April 2021 from Juan de la Cuesta. 

For any questions, please contact diversifyingtheclassics.ucla@gmail.com
For more information on the UCLA Diversifying the Classics project: diversifyingtheclassics.humanities.ucla.edu

With special thanks to our sponsors, UCLA's Center for 17th- and 18th-Century Studies and UC Irvine's New Swan Shakespeare Center.