On May 2nd, 2017 we took our work to Cal Poly Pomona, where we held a workshop on theater and translation for performance that was attended by one hundred students, teachers, and professors from the College of Arts and Letters. The two-hour event, organized by Cal Poly Pomona Assistant Professor Marta Albalá Pelegrín, proved to be dynamic, informative, and engaging, as discussants and members of the audience interacted openly and had the pleasure of attending two dramatic readings of selected monologues by Bernardo Solano, Chair of the Department of Theater and New Dance, and theater professor Linda Bisesti.
The members of Diversifying the Classics: Translation for Performance prepared a booklet for the translation workshop that was available beforehand, so that students could work with it during the event. It contained original translations of two monologues from the early modern plays The Truth Can't Be Trusted and One House, Many Complications, by Mexican playwrights Sor Juana Inés de la Cruz and Juan Ruiz de Alarcón. The group's original translations faced Dakin Matthews' translations of the same scenes. Several students in the audience had also prepared their own translations for the workshop as part of a class assignment, so that they could contribute to the discussion while acquiring a deeper understanding of the nuances of literary translation.
Professor Barbara Fuchs opened the workshop with a presentation on the Diversifying the Classics project. Jennifer Monti, Adrián Collado, and Robin Kello further contextualized the workshop by presenting on transatlantic Golden Age Theater, and Alarcón's and Sor Juana's plays, while Paul Cella and Laura Muñoz acted as discussants. The workshop familiarized the audience with Hispanic Golden Age Theater and the intricacies of translating for performance, and was met with enthusiasm and delight. The discussion was followed by a truly engaging and fascinating Q&A session moderated by two group members (Javier Patiño Loira and Marta Albalá Pelegrín).
Translating for Performance allowed us to bring our work to Cal Poly Pomona, share our passion and interest in Hispanic Golden Age Theater with students and professors, and ultimately captivate a modern-day audience with a small taste of the immense theatrical repertoire from Spain's Golden Age of drama.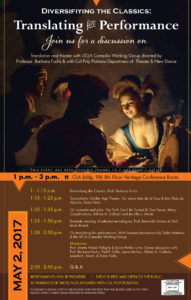 Jennifer L. Monti