NEW Database: Comedias Sueltas USA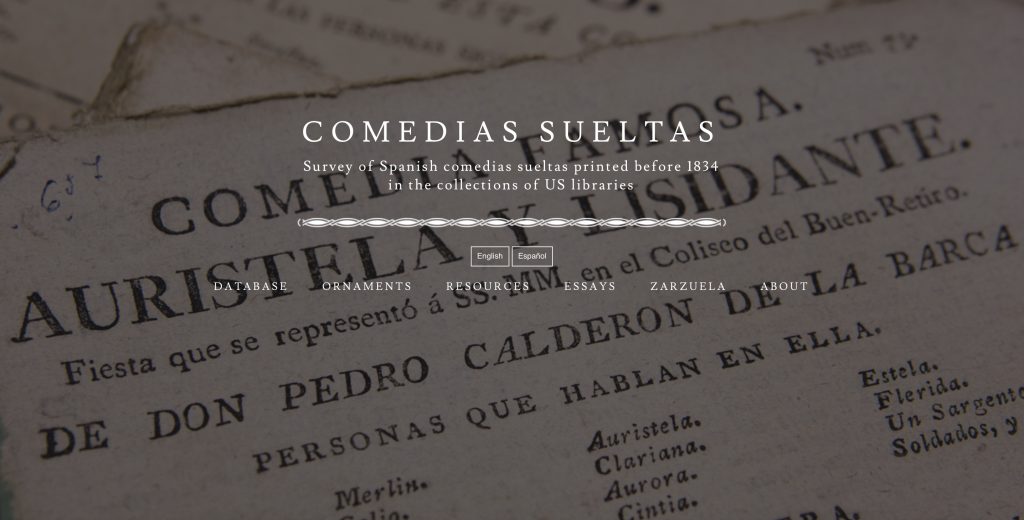 Marta Albalá Pelegrín
A new research tool, the website Comedias Sueltas USA, is in the making, with thousands of entries already available online and more to be added in the following months. Comedias sueltas, or just sueltas, similar to English quartos, were single plays printed in a separate edition, at the low end of the printing trade. These publications often provide information about performances, actors, companies, and sometimes even musical scores, and thereby constitute an invaluable resource for reconstructing how past readers, performers and booksellers engaged with the theater. Among other topics, sueltas illuminate how the print market operated, how books circulated, and how and where performances took place.
The website will progressively incorporate records from several dozen libraries, including essential collections from institutions across the US, such as the Hispanic Museum and Library (formerly the Hispanic Society of America), New York Public Library, John Carter Brown Library and Brown University, Smith College, Dartmouth College and the University of North Carolina. The ultimate aim of the project is to create an complete census of more than 20,000 individual comedias sueltas in the US.
However, Comedias Sueltas USA goes beyond providing scholars with a catalogue of records. It offers a rigorous database of bibliographical entries (including names of authors, translators, printers and booksellers), a section dedicated to typographic ornaments, a list of resources for the study of sueltas, and essays written specifically for the website by recognized scholars in the field of comedia studies. Each bibliographic entry is paired with images of its title-pages and colophons, and includes notes specifying if the suelta has marginalia or contains other pieces that were part of theatrical events, such as loas, entremeses or bailes. Scholars interested in book history, performance studies or cultural studies can use these images to extract information about cultural practices, printing and circulation of goods and intellectual networks. Through the study of sueltas, for example, one can reconstruct the 18th-century vogue of inexpensive comedias read or performed in homes by amateur actors and theater enthusiasts.
It is hoped that this open-access centralized database will help scholars first, locate the collections where these works are held, and second, manipulate very large volume of material introduced in new fields of research, especially the digital humanities. Data analysis of this universe of like objects, when studied in relation to one another, will enable scholars to study printing history and aspects of theater history through "big data" not available before. Szilvia Szmuk-Tanenbaum started this project 5 years ago and hopes that within the next two years the database will be sufficiently populated to support some exciting new research.